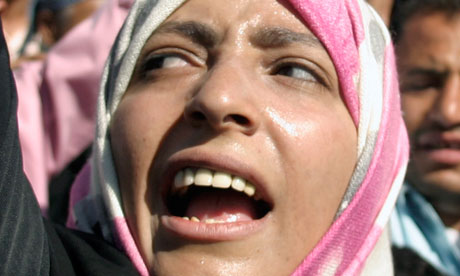 Observed by: Mr. Alaa Isam
Fresh protests in Sanaa after arrest of Tawakul Karman, who led student rallies against the government last week.
Yemen sparked a new wave of protests today with the arrest of a female activist who led student rallies against the government in the capital last week.
Inspired by the ousting of Tunisia's president, Tawakul Karman led two protests at Sanaa University, criticising autocratic Arab leaders and calling on Yemenis to topple President Ali Abdullah Saleh.
Police stopped Karman on her way home early today and charged her with organising unlicensed demonstrations without permission, said her husband, Mohamed Ismail al-Nehmi, who was with her.
"I have no accurate information about her whereabouts," Nehmi said. "Maybe at the central prison, maybe somewhere else, I don't know."
Several hundred students gathered outside Sanaa University demanding her release. Riot police clashed with two TV cameramen filming the protests and confiscated their cameras, a witness said. One was briefly arrested.
About 60 policemen armed with shields and batons prevented the crowd from marching towards the general prosecutors' office, the witness said.
Karman, a member of the Islamist party Islah who heads the Yemeni activist group Women Journalists Without Chains, had called on Yemenis to support the Tunisian people. The overthrow of the Tunisian president has shattered the image of oppressive, military-backed Arab rulers as immune to popular discontent.
Saleh has ruled Yemen for more than three decades. He has struggled to lift Yemen out of entrenched poverty; more than 40% of the population live on less than $2 a day and almost a third suffer from chronic hunger.
Thousands protested in the south on Thursday against political reforms proposed by the government, including a limit on presidential terms, which they said did not go far enough.
Source: http://bit.ly/fGvF1p